Website Design & Hosting – Business Mentor – Digital Nomad based in Cornwall UK.
My name is Mark Edgecombe. After a lifetime in business I decided to hit the reset button, sell up, move back to Cornwall, and become a semi retired digital nomad. I set up Westcountry Websystems as I enjoy creating websites, and to keep my mind occupied:
I have always had a thing about business, I bought and sold pushbikes when I was a kid, I bought and sold my first car when I was 15 years old. I have set up, developed, operated, advised, bought and sold, numerous businesses over my 40 years as an entrepreneur.
In February 2020 when we hit the reset button on life, I sold my award winning motor business which I had owned since 2011 (that turned out to be good timing) sold our home in Somerset, and hit the road in our campervan. We eventually bought a small base in Cornwall, and now spend time between our Cornish base, and our campervan in which we explore the UK & Europe.
Becoming a digital nomad means I can take a slower pace of life, and keep my mind occupied by building websites, and offering my experience to owners of small & micro businesses. I enjoy helping people, I look forward to helping you.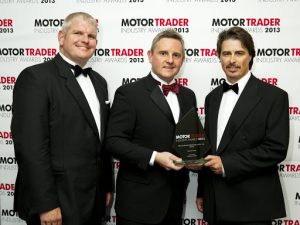 Here I am on the right collecting the award for "The UK's Most Improved Dealership" at the prestigious Motortrader Industry Awards in London. Click the pic to read more about it. (it was a team effort that won us the award) (I am a bit more grey haired now)
I would love to help you to develop and grow your business.
Mark
Westcountry Websystems, weaving a web of support for your business.
Send me a no obligation email to start things off:  me.westweb@gmail.com